HOW TO LOAD 3RD PARTY PRESETS INTO REVEAL SOUND SPIRE
!
To load 3rd party presets and sounds into Reveal Sound Spire, there`re 2 different ways and one additional solution, in case you`re using the ReSpire version for Propellerheads Reason in RackExtention format.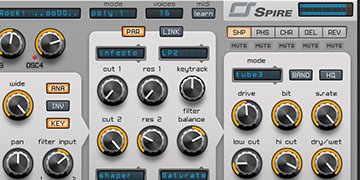 Additionally, the synthesizer`s manual also will contain detailed information about where to place the presets and load them.
Option 1 – Load
To load the bank simply click on the load bank button on Spire's drop-down menu and locate the soundbank file.
Option 2 – Import
A better way to import a soundbank is: Launch Spire and click the 'menu' button to select 'Import Bank' from the list of options. Browse for your Soundbanks with the name *.sbf (multiple selections are possible). After importing click the Spire 'menu' button again and choose the 'Select Bank' option from the list to display all of the imported sound banks. This will allow you to select it directly from the drop-down menu via "Select Bank" at any time without having to relocate the bank file each time.
Presets:
To import a single preset, launch Spire and click the 'menu' button to select 'Load Preset (*.spf)'. After this navigate to your Spire Presets Folder. Select one and click 'Open' to load it.
Convert Presets for ReSpire:
To convert regular preset (.spf) or soundbank files (.sfb) into the ".repatch" file format for the ReSpire RackExtension synthesizer, Reveal Sound offers a online converter. Just upload the preset or soundbank file, and you can afterwards download the converted file.
The converter can be found here: reveal-sound.com/sound-convert/
Additional Information
In most cases our products (e.g. soundsets and presets packs) contain a detailed installation guide, if the presets based on the synthesizer, need to be placed in specific folders and of course, which version of the specific synthesizer is required to use the soundset files. Otherwise, the developer`s manual of the synthesizer always shows how it`s own preset handling works and can be used.
If you have any question left or additional help and support needed, feel free to contact us via our contact form or via our support forum on KVR.