HOW TO LOAD PRESETS INTO DSI PRO 2 SYNTHESIZER
!
Please be aware – the DSI Pro-2 don`t allow you, to selected in which user bank the loaded presets will be stored, so please back up all your user banks before importing new presets!
01
The best way to load presets into the DSI Pro 2 synthesizer is by using the USB connection between the synthesizer and your computer, by "using a Sysex utility". If you don´t have already a Sysex utility, you can use a free one. A good free option is the Elektron C6, which works on Win and Mac OS. It`s available on www.elektron.se
(support -> downloads -> applications).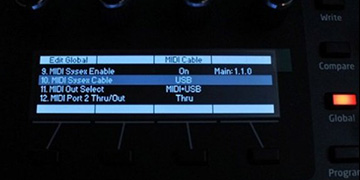 Before importing any new presets into your DSI Pro 2, you need to configure the synthesizer, to "receive Sysex" and to "receive it via USB". This can be done, by clicking on the Global Control and scrolling through the "menu to options 9 and 10". For more details about the menu and options, please use the Pro 2 manual.
02
Once you have your Sysex Utility, or as in this example Elektron`s C6 application loaded, use the load function and find the preset bank on your hard drive, which you want to load into your Pro 2, and click on "open".
Once the preset bank is loaded, "highlight the sysex file" by clicking on it, and than "click on send".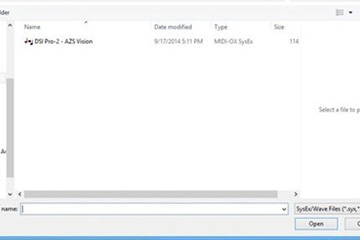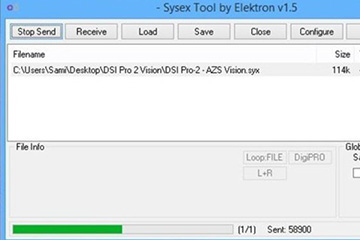 03
Now, the screen on your Pro 2 should show the "update process" and receiving the sound bank.
We also recommend, as alternative method to check the installation instruction in the Pro 2 manual, about importing presets and OS Updates.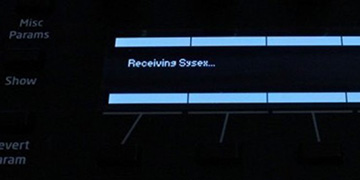 As mentioned on the very beginning of this guide, please remember to back up your user banks before importing new sounds into your DSI Pro 2.
Additional Information
In most cases our products (e.g. soundsets and presets packs) contain a detailed installation guide, if the presets based on the synthesizer, need to be placed in specific folders and of course, which version of the specific synthesizer is required to use the soundset files. Otherwise, the developer`s manual of the synthesizer always shows how it`s own preset handling works and can be used.
If you have any question left or additional help and support needed, feel free to contact us via our contact form or via our support forum on KVR.