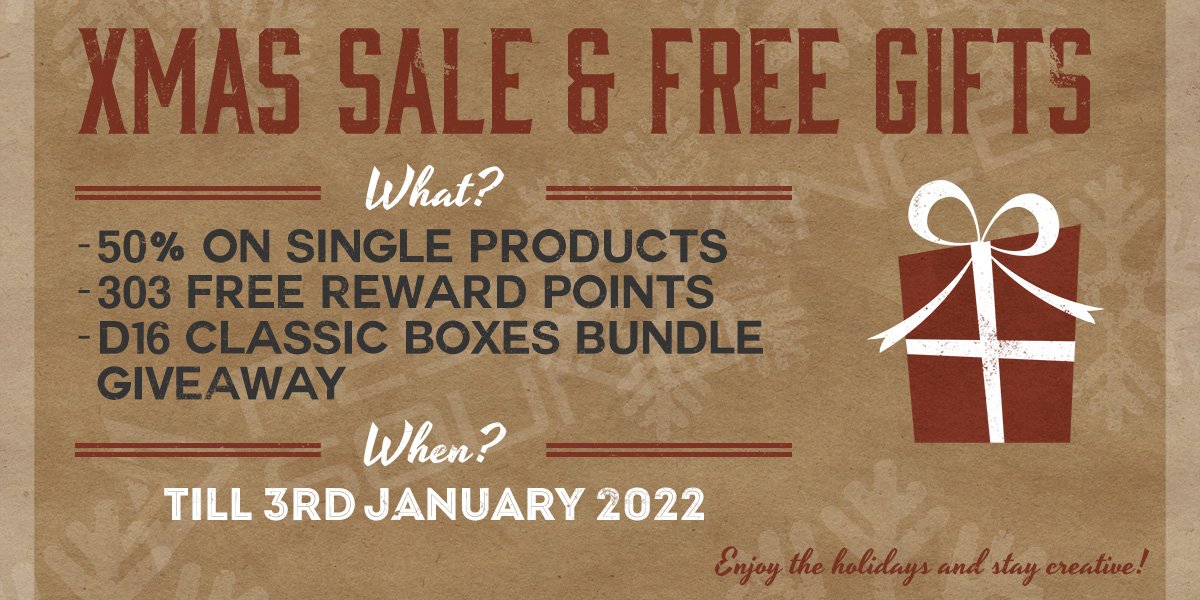 XMAS SALE 2021 WITH FREE GIFTS AND GIVEAWAY!
The best time of the year is here again – Christmas. and to make the festive season a little nicer for you, we've come up with something special this year!
This Xmas sale also offers an attractive discount of 50% on all single products. And every customer account (which existed before December 15, 2021 and has also purchased something up to that point) receives 303 free reward points. which he can of course freely use for the future in order to get desired products even cheaper.
In addition, we are raffling off a free license for the D16 Classic Boxes Bundle to a single existing customer! The lucky winner will be randomly drawn and will receive the redeem code for the license on December 23rd. So that the 4 extraordinarily good sounding 303, 606, 808 & 909 emulations from D16 Group also land in your daw in time for Christmas. A big thank you, of course, to our friends at D16 for sponsoring the additional award.
>>> The winner of the D16 Classic Boxes accepted the Giveaway on December 25th, 2021: Heiko Schübel / Germany. Congratulations! 
The Xmas sale runs until January 3rd, 2022.
All information about our reward points: Reward Points Explained
Have a relaxing Christmas, enjoy the time with family and friends, and above all – stay creative and healthy.