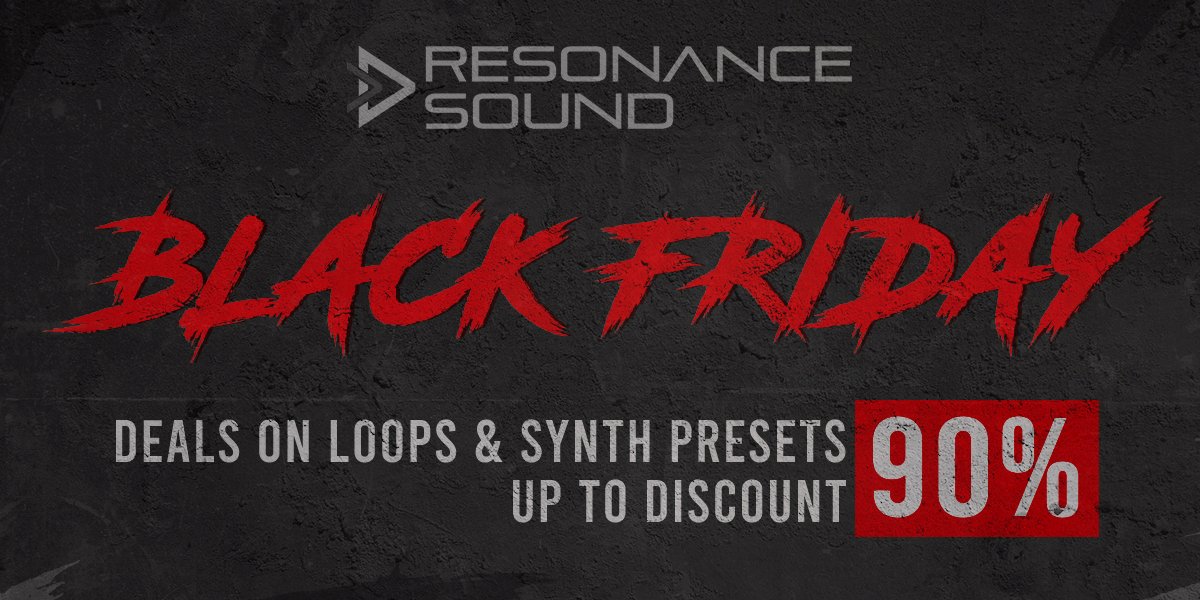 BLACK FRIDAY DEALS 2022
It`s finally time – the best deals of the year are live! Our this year`s Black Friday Deals featuring exclusive synthesizer preset bundles, massive savings on gigantic loop & sample pack bundles. Saving on unique vocal sample libraries, synth soundbanks, AU/VST plugin and more – all you need to find new inspiring sounds and tools for your music production! Please keep in mind, all the deals and offers are only available till 4th December 2022. Some of the offers, like the 5 exclusive synthesizer presets & MIDI bundles won`t be available in general after that. So get them, as long as they are there!
1
Since many asked for it – we not only bringing back our previous Black Friday Deals special bundles, we revamped them to bring your an even more solid and inspiring package for each of your favorite synthesizers with tons of top-notch presets and inspiring MIDI files – for a stunning 70% Discount!
2
One of our exclusive Black Friday 2022 Deals is for all fans of retro and synth wave music – a 90% Discount on Synthwave Reflection!
"Back to the Future, it is, folks! Synthwave Reflection has arrived, taking you on an exciting journey back (or forth?) to the 80ies. Back-in-the-days electro beats, supercharged with nowadays high-tech tools of sound design, perfect basses, synths, leads and contemporary arpeggios (incl. MIDI files) are just what you need to indulge in some state-of-the-art synthwave tracks."
– 282 files total / 16 Song Kits / 818 MB Content

Davide Carbone
Well if you are looking for old school Synthwave samples and loops then this is the right pack for you. Particularly if your intention is to write something that requires the sounds, leads and melodies of that style. (…)  I just love how authentic it all feels. Sure it's a little more 80's than modern synthwave but that is pretty much the same thing!  (…) 9/10
3
60% Discount on our Melodic Elements Series: atmospheric synth sequences for deep house, melodic techno and more – created with some of the most exclusive synthesizers on the market!
Loaded with 100 loops (dry & wet versions included) and 100 matching MIDI files in each pack, designed on some of the noblest analog synthesizers on the market now, like Black Cooperation Kijimi, Deckard`s Dream, or the mighty Moog Matriarch and refined with superb sounding outboard & effect pedals like Roland Space Echo RE-201, Moog MF-108 Cluster Flux, Erica Synths Fusion Box, Electron Analog Heat, Chase Bliss and others!
4
"The GRIP valve drive compressor by CFA-Sound is a powerful dynamic processor, which delivers compression with character! The hybrid design features an accurate emulation of legendary german vintage tubes of the 1960s and a modern VCA compressor workhorse. Together they create a powerful fusion of both worlds – vintage and modern at once."

Computer Music UK:
Grip brings together an interesting combination of features, and we particularly like its responsive Compressor. The Valve Drive is a bit trickier to get down with, though, and needs to be handled with care. Nonetheless, this is a good plugin for the price, and one capable of adding plenty of colour. Rating: 8/10 + Value Award!
5
Of course, our extensive collection of bundles can`t be missing in the list of our Black Friday 2022 Deals – up to 80% Discount on tons of creative and professional samples & loops! Some of them come with a mass of over 40 GB – and more than 29000 samples!
6
And don`t worry – all our single products are available for a tasty discount of 50% as well.
Fresh and cinematic patches for Arturia Pigments, driving techno sounds for Roland System-1, pumping Tech House presets for xfer Serum, grooving loops for minimal and house, or vocal samples from world-renowned like Zara Taylor and Amy Kirkpatrick – and much much more – explore the shop and find all you need for new inspiration and sounds in your music tracks!