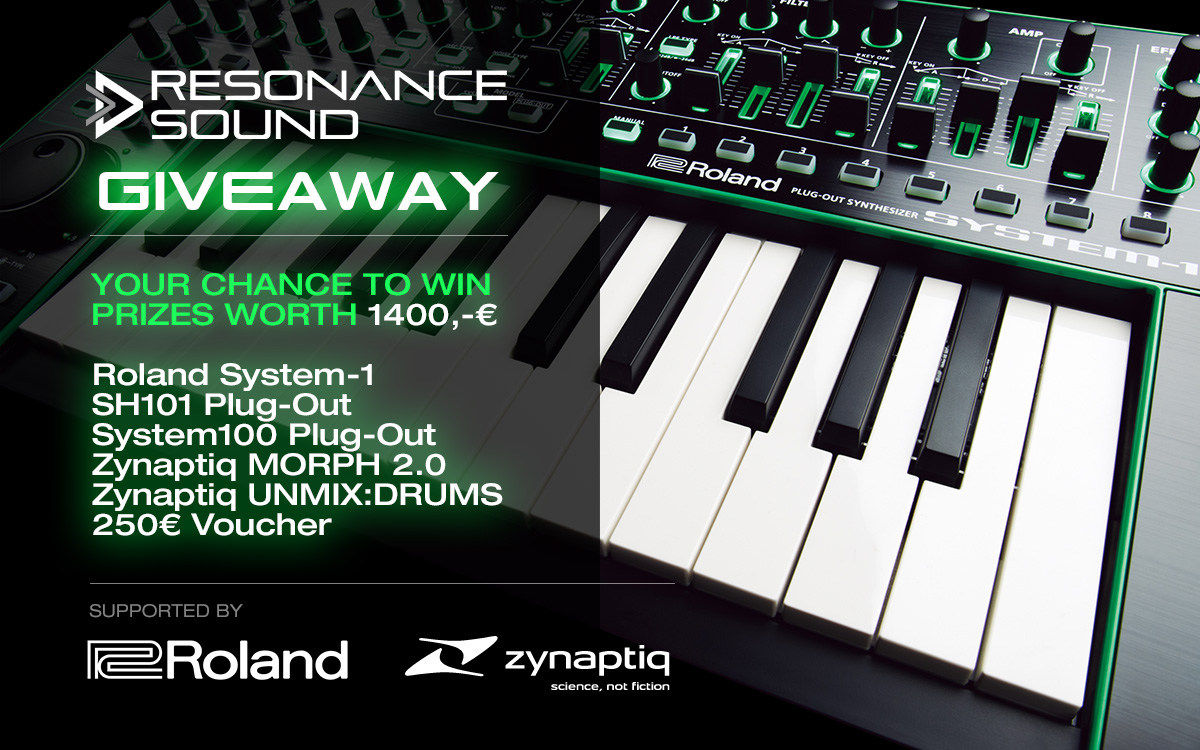 NOTE: THE GIVEAWAY HAS ENDED, SANDERS B. FROM THE NETHERLAND WAS THE LUCKY WINNER – CONGRATS!
GIVEAWAY 2015: Win a Roland System-1 and so much more, worth 1400 €!
Looking at a grey'n'windy November day, your studio might just look extra lonely. Why don't you work on that by taking only a few seconds to enter the biggest Resonance Sound Giveaway yet? A delicious Roland System-1 is waiting for one lucky winner, spiced up with 2 legendary Plug-Outs. Furthermore the winner will get 2 stunning plugins of Zynaptiq and a huge voucher on top to select from the Resonance Sound product arsenal – in total prizes worth 1400€! All you need to do is subscribe to the Resonance Sound newsletter during the giveaway period. Easy, isn't it? And you will even be among the first in line to know about special offers, new products and exclusive previews to support your professional studio gear!
OVERVIEW:
– Take part until january 15th, 2016, 00.00 am (CET).
– Prizes will be awarded until january 20th, 2016, 00:00 am (CET).
– One lucky newsletter subscriber will receive the prizes.
How to particpate: subscribe to the Resonance Sound newsletter.
Be the first in line to know about everything new Resonance Sound. Unsubscribe any time.
Roland & Zynaptie are not affiliated with the giveaway.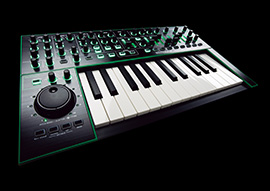 Roland System-1 Synthesizer
Back in the 1970s, Roland launched the SYSTEM 100, SYSTEM 100M, and the now almost mythical SYSTEM 700. These modular and semi-modular synthesizers are heralded to this day for their flexibility and character of sound. In the spirit of its predecessors, the Roland SYSTEM-1 breaks new ground with remarkable flexibility and access to a vast palette of tones with the bold, unmistakable character associated with Roland synthesizers for nearly four decades.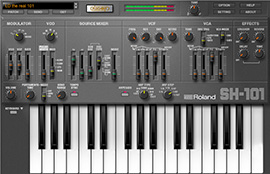 Roland SH-101 Plug-Out
The SH-101 PLUG-OUT Software Synthesizer is a complete reproduction of the iconic SH-101—right down to the fine details and odd quirks that make it one of the most popular classic synthesizers of all time. Based on Analog Circuit Behavior (ACB) technology, it not only reproduces the SH-101's legendary sounds, but faithfully recreates the very behavior of its analog circuitry—all with a level of authenticity that could only come from the company that created the original.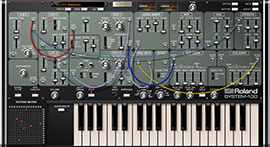 Roland System-100 Plug-Out
The SYSTEM-100 PLUG-OUT Software Synthesizer is a modern reproduction of the now-legendary semi-modular monosynth from 1975. It integrates the features of the original Model 101 Synthesizer and Model 102 Expander units, resulting in an incredibly fat and uniquely versatile two oscillator monosynth with modular routing capabilities. Designed for SYSTEM-1 and 1m as well as Mac and PC hosts, the new SYSTEM-100 uses Analog Circuit Behavior to faithfully recreate every detail of the warm, expansive sound of the original, with a level of authenticity that can only come from Roland.
Zynaptiq MORPH 2.0
MORPH 2 is a real-time plug-in for structural audio morphing, the sonic equivalent of one object slowly changing its shape to become a different object – for example, one face becoming another. Super-charged with a selection of 5 different morphing algorithms, a stunningly clean formant shifter as well as a lush reverb that seems to extend sounds much like some highly revered vintage hardware boxes, MORPH 2 opens up a whole new universe of sounds to explore.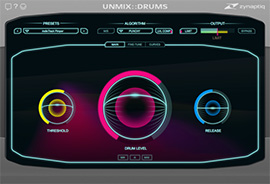 Zynaptiq UNMIX::Drums
UNMIX::DRUMS is the world's first audio plugin that allows attenuating or boosting drums in mixed music, in real-time. Using advanced source signal separation (a.k.a. de-mixing, unmixing, sound extraction, sound isolation) technology under the hood, UNMIX::DRUMS provides frequency dependent drum level control that ranges from up to +18dB of boost to virtually complete removal* – while always sounding great. Whether used on a full mix or on a drum bus, UNMIX::DRUMS can be used to shape and enhance the impact of your drums in a unique new way.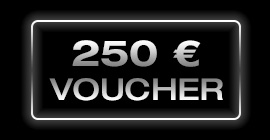 Exclusive voucher
You will also recevie an exclusive voucher with the huge value of 250€ – with that you have free choice from our hole sound catalogue of Resonance Sound, to collect several products from soundsets, samples & MIDIs.
By subscribing to the Resonance Sound newsletter during the above mentioned period, you fully acknowledge the corresponding terms and conditions. You declare to respect the decision of Resonance Sound and to fulfill all eligibility criteria. The Resonance Sound Giveaway ("RSG") is open to all humans from 18 years onwards at the time of entry. Employees of Resonance Sound, affiliates, advertising and promotion agencies, distributors, merchants involved with this RSG and their immediate family members and/or those living in the same household are not eligible to partake. RSG is subject to German law, i. e. applicable federal, state and local laws and regulations. Void where prohibited by law. To enter the RSG and to win, a purchase at www.resonance-sound.com is neither necessary nor will it improve your odds.
How to participate:
To enter the RSG, subscribe to the Resonance Sound newsletter with your valid email address and follow the instructions on-screen/via email to confirm. All entries must be received by january 15th, 2016, 00.00 am (CET) ("RSG Entry Period"). Participants are subject to all (legal) notes available at and applicable for www.resonance-sound.com including but not limited to the privacy policy.
Prizes and estimated retail value:
Roland System-1 + SH101 Plugout + System100 Plugout + Unmix DRUMS plugin + Morph 2.0 plugin + 250€ Resonance Sound Voucher (altogether worth approx. 1400 €). If the winner is unable to receive the prize for any reason this person becomes ineligible and an alternate winner will be selected in accordance with these official rules. Prizes may not be transferred or assigned except by Resonance Sound and cannot be disbursed.
Winners will be selected in a random drawing from all eligible newsletter subscriptions received until January 15th, 2016, 00:00 am (CET) by a Resonance Sound representative whose decisions are final. Winners will be notified by email and at the judges' discretion, will be required to complete and return an email confirming prize acceptance and providing contact data necessary to receive the win within 7 days of notification. If during that period no satisfactory and complete answer is received, an alternate winner will be selected. After having received the confirmation email, the prize will be shipped within 30 days. If the RSG is returned as undeliverable, the prize will be awarded to an alternate winner. If a winner is a minor in his/her state of primary residence, the prize will be awarded to the winner's parent or legal representative who will be required to provide all further information necessary to complete the awarding procedure on the minor's behalf. The winner is responsible for all applicable federal, state, local sales and income taxes and any other incidental expenses. By accepting the prize the winner allows Resonance Sound to use his/her name, the prize won and the country of primary residence for online posting and promotional purposes without further compensation, except where prohibited by law. Prize is guaranteed to be awarded.
The winner is liable for any injury or damage caused or claimed to be caused, by participation in this RSG or use or redemption of prize. Resonance Sound is not responsible for any error in the printing of the offer, administration of the RSG or in the announcement of the prize. Winner acknowledges that Resonance Sound and all other businesses concerned with this RSG and their agents do not make, nor are in any manner responsible for any warranty, representations, expressed or implied, in fact or in law, relative the quality, conditions, fitness or merchantability of any aspect of the prize.
In the event of a dispute over the identity of an online entrant, entry will be deemed submitted by the "Authorized Account Holder" of the e-mail address submitted at time of entry, that is, the natural person assigned to this email address by an Internet access / online service provider or another organization responsible for assigning email addresses for the domain associated with the submitted email address. Entry materials/data that have been tampered with or altered, mass entries or entries generated by a script, macro or use of automated devices are void. Resonance Sound is not responsible for: (i) lost, late, damaged, misdirected illegible or incomplete entries, (ii) error, omission, deletion, defect, interruption, delay in operations or transmission, destruction or theft or unauthorized access to or alterations of entry materials, or for technical, network, telephone equipment, electronic, computer, software or hardware malfunctions of any kind, or inaccurate transmission of or failure to receive entry information by Resonance Sound on account of technical problems or traffic congestion on the Internet or at any website or any combination thereof or (iii) any injury or damage to entrant's or any other person's computer related to or resulting from participating in the RSG. Resonance Sound reserves the right to permanently disqualify any person it believes has intentionally violated these rules, to cancel the RSG in case of any unsolvable technical corruption and to select the winner out of all eligible entries received prior to withdrawal.
Confidentiality
Your information necessary to eligibly enter the RSG will never be sold to anyone. You may unsubscribe from the Resonance Sound newsletter any time by clicking on this link and enter your email. The unsubscribe-link is also available in every of our newsletter mails.
Sponsor
Resonance Sound UG (haftungsbeschränkt)
Hauptstrasse 25
96190 Untermerzbach – Germany
Phone: +49 (0)9533 / 1298
E-Mail: info[at]resonance-sound.com
Internet: www.resonance-sound.com
Managing Director: Oliver Schmitt
VAT : DE815296195
Responsible for website content (§6 MDStV, Germany): RESONANCE SOUND UG (haftungsbeschränkt), Hauptstrasse 25, 96190 Untermerzbach (Germany)
The personal information collected from each entrant in the course of the RSG will be used by Resonance Sound for the purpose of administration of the RSG and as otherwise permitted in accordance with the Resonance Sound privacy policy. Resonance Sound reserves the right to alter any rules of the RSG any time. If you have any questions or complaints about the RSG, please send a mail to [email protected].
The RSG is not administered by Roland & Zynaptiq, nor are Roland & Zynaptiq associated with the RSG. You understand that you are providing information just to Resonance Sound and not to Roland & Zynaptiq. Roland is a registered trademark of Roland.