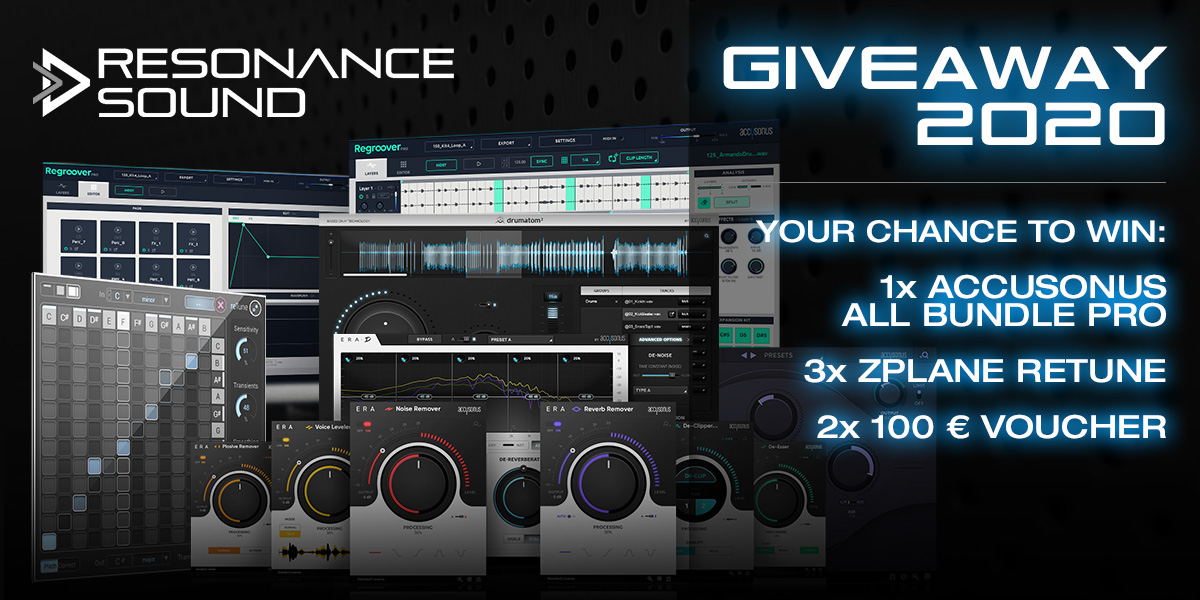 NOTE: This Giveaway has ended!
1st winner: A. Hoerster / Germany
2nd winner: C. Johnson / Cleveland UK
3rd winner: I.L. da Silveira Truppel / Brazil
GIVEAWAY 2020 – WIN ACCUSONUS ALL BUNDLE, ZPLANE RETUNE AND MORE WORTH UP TO 1300 €!
Looking for the next Resonance Sound Giveaway? This year we have a delicious 'Accusonus All Bundle', 3 licences of 'zplane reTune' and 2 vouchers to select from the Resonance Sound product arsenal. All you need to do is subscribe to the Resonance Sound newsletter during the giveaway period. Easy, isn't it? And you will even be among the first in line to know about special offers, new products and exclusive previews to support your professional studio gear! This time 3 winners will be drawn!
HOW TO TAKE PART:
Up to 3 entries per person. It's so easy to enter:
1. Subscribe to our Newsletter*. Already signed up? Great, then you already have 1 entry!
2. Share our Facebook post of this contest to be entered a 2nd time.
3. Retweet our Twitter post about this Giveaway to be entered a 3rd time.
Take part until June 30th, 2020, 00.00 am (CET). We will announce the lucky winner on July 21th, 2020, 00.00 am (CET)
*After registration in the newsletter (double in procedure), you allow us to send you advertising emails (approx. 1-2 per month). Without a newsletter registration, participation in the raffle is not possible.
PLACE #1
Accusonus All Bundle Pro (worth 699 $)
zplane reTune (worth 149 €)
PLACE #2
zplane reTune (worth 149 €)
100 € voucher for Resonance Sound products
PLACE #3
zplane reTune (worth 149 €)
100 € voucher for Resonance Sound products
Drumatom
Drumatom is the world's first microphone leakage suppression tool for multichannel drum recordings. Based on the patent pending Advanced Audio Analysis (A3) technology from Greece's accusonus, this application is nothing short of MAGIC. Drumatom2 reduces cross-microphone bleed on recorded drum tracks without altering the drum tones you worked so hard to capture. Using advanced signal analysis and processing, drumatom determines the difference between a snare hit and a hi-hat hit, allowing you to reduce the level of the hi-hat from the snare track while preserving the snare sound, even if both snare and hi-hat were struck at the same time.
Rhythmiq
Rhythmiq uses A.I. to help you turn your tracks into a performance in a way that was previously thought impossible. Rhythmiq is fundamentally different from anything else you've seen. It allows you to re-shape your loops in real time and safely improvise with them while performing live. It's your new 'bandmate' who learns from you. Ιt will boost your inspiration and it will help you create unique live-evolving compositions.
Rhythmiq analyzes and understands your beats and instantly allows you to create new arrangements. You get unlimited, musically structured and fun rhythms, by turning a simple knob. Generate and save pattern variations, for instantly playable breaks, fills and build-ups. Enable the A.I. Beat Assistant and let it perform your loops in real-time. The Beat Assistant injects your beats with everything from nuanced micro-variations to musical, evolving changes. Although Rhythmiq uses ground-breaking A.I. technology, it is still controlled by you. Launch it while you are playing live or jamming in the studio, tell it how much variability you want and you will experience a new way to jam with your beats and find inspiration.
All Expansion Packs
The All Bundle contains all of the Accusonus expansion packs for Regroover and Rhythmiq including:
– Alpha
– Cosmic Rays
– Fractals
– Hyper-Abstract Electronica
– Rusty Block
– Spasm
– Ark Toolbox
– Monolithic
– Pulse Digger
– Beatformer
Effortlessly shape the sound of your beats with 4 intuitive controls: Boom, Punch, Squash and Air. Transparently fine tune or fully transform your beats with the turn of a simple dial. Intuitively sculpt your beats without compromising the musicality and the character of the original sound. Blend analog-style processing with modern digital technology.
Regroover Pro
The world's first Artificial-Intelligence Beat Machine.
Based on accusonus' patent-pending "advanced audio analysis" (a3) technology, Regroover analyzes your audio clips and extracts the underlying sound layers. Using these previously unreachable sonic elements, producers, musicians, DJs and sound designers are now able to remix, rearrange and manipulate their grooves with unprecedented flexibility.
With Regroover Pro everyone can extract inspiring samples from the Layers, drag them into the kit Editor, combine them with external sounds and create inspiring Expansion Kits.
Regroover is a Virtual Instrument that opens up brand-new creative possibilities and extends traditional music sampling.
ERA 4 Bundle Pro
The Enhancement and Repair of Audio (ERA) Bundle is a collection of eight powerful, human-friendly audio repair plugins that offer both fast and high-quality processing. These plugins are not only incredibly effective but also ridiculously easy to use. Whether one is a seasoned pro or just starting out, the ERA Bundle can help them hassle-free, quality results.
ERA 4 Bundle Pro is a multi-patented next-generation audio repair tools that offer both fast and high-quality processing. If you are a professional in post and music production, you deal with impossible deadlines. accusonus smart tools will help you save tons of studio time by doing most of the work for you.
The ERA 4 Bundle Pro includes the following products:
– ERA 4 Noise Remover
– ERA 4 Reverb Remover
– ERA 4 Plosive Remover
– ERA 4 De-Esser
– ERA 4 De-Esser Pro
– ERA 4 Voice Leveler
– ERA 4 De-Clipper
– ERA-D
zplane ReTune
reTune by zplane gives you full access to the pitch content of your audio samples and enables you to map each input pitch to any other pitch of the chromatic scale – all in realtime. This allows you to re-tune your audio to any target key (e.g. from D major to C# minor), or to use it as a creative tool to modify the pitch content in any way you like. If you are unsure about the key of your input audio, you can let reTune estimate the key for you.
In addition, reTune can act as a pitch correction tool that quantizes pitches to the nearest semitone. Additional controls include the sensitivity of the pitch corrections, the treatment of transients as well as a smoothing of the pitch contours.
Exclusive Voucher – 100€ Value
The 2nd and 3rd winner can choose products worth up to 100 € from the Resonance Sound product arsenal. Pick free across the catalogue, from awarded and massive sample libraries up to fresh and inspiring soundsets for top-notch synthesizers.
Bundles & D16 Punchbox are not included for that voucher.
By subscribing to the Resonance Sound newsletter (After registration in the newsletter (double in procedure), you allow us to send you advertising emails (approx. 1-2 per month). Without a newsletter registration, participation in the raffle is not possible.) and/or sharing the contest on Facebook and/or retweeting the contest on Twitter during the above mentioned period, you fully acknowledge the corresponding terms and conditions. You declare to respect the decision of Resonance Sound and to fulfill all eligibility criteria. The Resonance Sound Giveaway ("RSG") is open to all humans from 18 years onwards at the time of entry. Only one mail adress entry per person is allowed. Employees of Resonance Sound, affiliates, advertising and promotion agencies, distributors, merchants involved with this RSG and their immediate family members and/or those living in the same household are not eligible to partake. RSG is subject to German law, i. e. applicable federal, state and local laws and regulations. Void where prohibited by law. To enter the RSG and to win, a purchase at www.resonance-sound.com is neither necessary nor will it improve your odds.
How to participate:
To enter the RSG, subscribe to the Resonance Sound newsletter with your valid email address and follow the instructions on-screen/via email to confirm and/or share the info about the contest on Facebook and/or retweet the info about the contest on Twitter. All actions must be received by June 30th, 2020, 00.00 am (CET) ("RSG Entry Period"). Participants are subject to all (legal) notes available at and applicable for www.resonance-sound.com including but not limited to the privacy policy.
Prizes and estimated retail value:
The 1st winner  will get the Accusonus All Bundle Pro plus a licence of zplane reTune.
The 2nd and 3rd winner will get a licence of zplane reTune and can choose products worth up to 100 € from the Resonance Sound product arsenal. Bundles & D16 Punchbox are not included in the vouchers.
If the winner is unable to receive the prize for any reason this person becomes ineligible and an alternate winner will be selected in accordance with these official rules. Prizes may not be transferred or assigned except by Resonance Sound and cannot be disbursed.
Winners will be selected in a random drawing from all eligible newsletter subscriptions received until June 30th, 2020, 00.00 am (CET) by a Resonance Sound representative whose decisions are final. Winners will be notified by email or via Facebook/Twitter message and at the judges' discretion, will be required to complete and return an email confirming prize acceptance and providing contact data necessary to receive the win within 7 days of notification. If during that period no satisfactory and complete answer is received, an alternate winner will be selected. After having received the confirmation email, the prize will be shipped within 7 days. If the RSG is returned as undeliverable, the prize will be awarded to an alternate winner. If a winner is a minor in his/her state of primary residence, the prize will be awarded to the winner's parent or legal representative who will be required to provide all further information necessary to complete the awarding procedure on the minor's behalf. The winner is responsible for all applicable federal, state, local sales and income taxes and any other incidental expenses. By accepting the prize the winner allows Resonance Sound to use his/her name, the prize won and the country of primary residence for online posting and promotional purposes without further compensation, except where prohibited by law. Prize is guaranteed to be awarded.
The winner is liable for any injury or damage caused or claimed to be caused, by participation in this RSG or use or redemption of prize. Resonance Sound is not responsible for any error in the printing of the offer, administration of the RSG or in the announcement of the prize. Winner acknowledges that Resonance Sound and all other businesses concerned with this RSG and their agents do not make, nor are in any manner responsible for any warranty, representations, expressed or implied, in fact or in law, relative the quality, conditions, fitness or merchantability of any aspect of the prize.
In the event of a dispute over the identity of an online entrant, entry will be deemed submitted by the "Authorized Account Holder" of the e-mail address submitted at time of entry, that is, the natural person assigned to this email address by an Internet access / online service provider or another organization responsible for assigning email addresses for the domain associated with the submitted email address. Entry materials/data that have been tampered with or altered, mass entries or entries generated by a script, macro or use of automated devices are void. Resonance Sound is not responsible for: (i) lost, late, damaged, misdirected illegible or incomplete entries, (ii) error, omission, deletion, defect, interruption, delay in operations or transmission, destruction or theft or unauthorized access to or alterations of entry materials, or for technical, network, telephone equipment, electronic, computer, software or hardware malfunctions of any kind, or inaccurate transmission of or failure to receive entry information by Resonance Sound on account of technical problems or traffic congestion on the Internet or at any website or any combination thereof or (iii) any injury or damage to entrant's or any other person's computer related to or resulting from participating in the RSG. Resonance Sound reserves the right to permanently disqualify any person it believes has intentionally violated these rules, to cancel the RSG in case of any unsolvable technical corruption and to select the winner out of all eligible entries received prior to withdrawal.
Confidentiality
Your information necessary to eligibly enter the RSG will never be sold to anyone. You may unsubscribe from the Resonance Sound newsletter any time by clicking on this link and enter your email. The unsubscribe-link is also available in every of our newsletter mails.
Sponsor
Resonance Sound UG (haftungsbeschränkt)
Hauptstrasse 25
96190 Untermerzbach – Germany
Phone: +49 (0)9533 / 1298
E-Mail: info[at]resonance-sound.com
Internet: www.resonance-sound.com
Managing Director: Oliver Schmitt
VAT : DE815296195
Responsible for website content (§6 MDStV, Germany): RESONANCE SOUND UG (haftungsbeschränkt), Hauptstrasse 25, 96190 Untermerzbach (Germany)
The personal information collected from each entrant in the course of the RSG will be used by Resonance Sound for the purpose of administration of the RSG and as otherwise permitted in accordance with the Resonance Sound privacy policy. Resonance Sound reserves the right to alter any rules of the RSG any time. If you have any questions or complaints about the RSG, please send a mail to [email protected].
The RSG is not administered by Accusonus & zplane. You understand that you are providing information just to Resonance Sound and not Accusonus & zplane.